| BIO |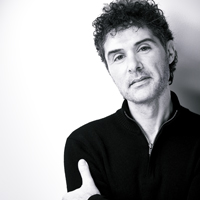 People know Robert for many different things. Most know him as a fine musician. Some know him as a recording engineer, while others know him as a photographer and designer. He's done all those things. But at the centre of it all, at the core of what drives him, is art – whether it be audio or visual. Trained as a classical musician, Robert learned from early on that focus and commitment can achieve something great. He brings this same passion, to learning, practising and refining his craft. Whether it's shooting a magazine cover, recording a new cd or live concert, editing a music video or designing a new website and print campaign, he is always striving for excellence.
But it is not just about the skills, using a new program or piece of gear, or even scouting locations and knowing when the light is best. While these are all important, it is not what sets him apart. Robert is a passionate people-person. For him, it has always been about taking care of the client and connecting with people. None of his projects, whether collaborative or commissioned, can achieve something special unless subject and artist can achieve a sense of connection. This is as true with photography and design as it is when allowing a recording session to find its natural rhythm.
Robert is an ideas man with little time for sleep. His mind is always at work learning new techniques, finding inspiring art and coming up with new ideas that are sometimes a bit over the top but too great not to try. This is why I look forward to working with Robert. Continuously moving forward is what being quality, reliable, creative is all about and that is what Robert strives to do each and everyday.
Bio by Darlene Kulig | www.darlenekuligartist.ca
| INFO |
Robert's work has taken him all over Canada, the United States, South America and Europe. His talents have allowed him to collaborate with some of the brightest names in the music and entertainment industry as well as the corporate world. He has completed corporate work for Universal Music, BMG Music, Sony Music, EMI, and worked for clients such as iFuriosi, XBOX, the Canadian Brass and Adobe. As an active contributor to the field of audio engineering, research and development, Robert is a member of the Audio Engineering Society. He is currently serving as a director in the Toronto Section of the AES, which is among the largest worldwide.
Among his many musical accomplishments, Robert performed as principal trumpet on the Emmy Award winning film Making Overtures by Rhombus Media which also garnered an Academy Award nomination for Best Short Documentary.
Robert also loves to give back. He has been the catalyst for change on many community issues that have helped shape the quality of life for thousands of people. Whether its organizing tree planting with Arbor Mission, creating safer streets with DriveSafe, volunteering at food banks, delivering gifts at Christmas, cooking for the Out of the Cold program or serving as a Scout leader, he has given back with his time and through his art to make a difference.
| CORPORATE |
Universal Music, BMG Music, Sony Music, EMI, Koch Entertainment, Bungalow Records, Marquis Records, Opening Day Recordings, ODEG, Corus Entertainment, FOX Televison Network, Bell Globe Media, CBC, CTV, BBC, MTV, HGTV, Shift Magazine, Professional Sound, Norris-Whitney, X-BOX User, MarketNews, Toronto Life, En Route Magazine, Sound and Vision, TorStar Corp., SunMedia, Globe and Mail, Chatelaine, Flare, ToneAudio, HiFi, Gramophone, Music America, Columbia Artist Management Inc., IMG Artists, S.L. Feldman & Associates, API, Trawick Artists, Livent, Richard Paul Artists, Adobe, Apple, Epson Corporation, Yamaha, Volvo, Fiat.
| ARTIST |
Canadian Brass, John Beckwith, Janina Fialkowska, Valdy, Julie Nesrallah, Penderecki String Quartet, Alfie Zappacosta, Leslie Newman, Jacques Israelievitch, Joaquin Valdepenas, Aris Argiris, Iseler Singers, Amici Chamber Ensemble, Toronto Symphony, Eleanor Daley, Bowfire, David Hetherington, Peter Desotto, Sarah Jeffrey, Kristina Reiko Cooper, Kerry Dorey, Ensemble Vivant, Steven Tsitsos, True North Brass, Alexander Sevastian, Lush, Gary Roberts, Mendelssohn Choir, Lenny Solomon, Lara St. John, George Gao, Carina Reeves, iFuriosi, Curtis Metcalf, Phil Smith, Hannaford Band, Lydia Adams, Johnny Cowell, Mandy Patinkin, George Meanwell, Hamilton Philharmonic, James Curnow, Serouj Kradjian, Bruno Aprea, Joan Watson, James Sommerville, Felix Deak, Denise Djokic, Robert Silverman, Aisslinn Nosky, Jens Lindemann, Al Kay, Gabrielle Mclaughlin, Wallis Giunta, Joseph Petric, National Ballet of Canada, Daniel Warren, Julia Wedman, Nadina Mackie, Three, Sabina Cvilak, Guy Few, Jennifer Snow, Stephanie Cadman, Barton Woomert, Catherine Wilson, Dave Young, David Jalbert, Daniel Bolshoy, Andrew McCandless, Neil Deland, Nicolo Eugemi, Jacqueline Smith, Susan Heoppner, Canadian Opera Company, Jasper Wood, Wendy Soloman, Chiara Taigi, Fine Arts String Quartet, Marie Berard, Mark Gould, Guido Basso, Steve Koven, Camille Watts, Ray Cattell, Plakaso, Doug Miller, Chuck Dallenbach, Ray Legere, Shane Cook, Caroline Leonardelli, David Pomeroy, Attila Glatz.
| PUBLISHED IN |
CBC.ca, CTV.ca, TIME, Shift Magazine, Professional Sound – Norris Whitney, X-BOX User, MarketNews, Toronto Life, En Route Magazine, Sound and Vision, Here's How, Home Entertainment, Stereophile, Widescreen Review, CEPRO, Quebec AV, Canada HiFi, Absolute Sound, The Toronto Star, The Toronto Sun, The Globe and Mail, Twice, Chatelaine, Flare, ToneAudio, Gramophone and Music America.
Check out Robert on:
Facebook
Twitter
LinkedIn
Audio Engineering Society
Behance
Cargo Collective
Google+
Klout
Pinterest
Tumblr
Vimeo
YouTube