TORONTO AUDIO ENGINEERING SOCIETY PRESENTS
Tour and presentation of Revolution Recording Studio with Martin Pilchner and Joe Dunphy
Tuesday May 22, 2012
7:00 PM
Revolution Recording Studios 36 Laing Street, Toronto, ON
One block east of the corner of Leslie Street and Eastern Ave.
Pre-meeting dinner, 5:00 pm at the Ceili Cottage
1301 Queen Street East, Toronto (just East of Leslie Street)
This month's meeting will NOT be available live on-line, but will be available as a podcast in the archives.
PARKING SUGGESTIONS
There are a couple of options, street parking is generally ok, but there will be rush hour restrictions (likely until 6PM). Parking on Queen during the day involves a fee, not sure about the evening. Leslie is always free, not sure about Laing.
THIS MONTH"S MEETING IS SPONSORED BY:
BRTB
For more than twenty years, BRTB has been producing the finest quality cable systems for both the computer and the professional audio and video industries.
SHERWOOD SYSTEMS
Special Thanks to Sherwood Systems for providing audio equipment for the presentation.
THE STUDIO
Revolution Recording is one of Toronto's newest premiere recording facilities. Partners Joao Carvalho, Joe Dunphy, John MacDonald and Kim Cooke operate the studio along with EMI Publishing stalwart Tanya Coghlan as studio manager.
Located on Laing St. in Toronto's downtown east end just south of the house where Alexander Muir wrote The Maple Leaf Forever, the 8,000 square foot, three room facility has been built to the highest sonic and aesthetic standards. The room was designed by Martin Pilchner who has been nominated for the 2012 TEC Award for 'Studio Designer of the Year' for his efforts.
Among the features the main studio offers is a large 65' x 40' recording space with side walls of solid cherry, numerically optimized to provide sound diffusion yielding a well-mixed live sound to the room. Three studios share a well maintained equipment and microphone collection.
Revolution has already hosted the recording of new albums by Sarah Slean and Great Lake Swimmers among others. The Neve room, with its 2,000 square foot recording floor, has become a go to destination for orchestral sessions.
SYNOPSIS
The Idea
From the outset it was collectively decided that the departure point for the design of Revolution Recording would be to capture and recreate the spirit of the classic music recording studios. Time was spent examining many of the legendary spaces, endeavoring to distill their salient features. The task then fell to reinterpreting those qualities in a clear and readable way. It was important, that while embracing the spirit, each element was rational from an acoustic sense, and meaningful in its phenomenology. Scale, proportion, materiality, composition, lighting, spatial relationships and functionality all played an important role in design decisions. The end result is a space that honors the tradition of its fore bearers, but in its clarity, celebrates it in a modern sense.
The Realization
We will be taken on the journey of design, construction and realization of Revolution Recording Studios. With the use of construction photos and diagrams the many project challenges will be revisited and solutions presented as to how they were overcome.
Martin Pilchner, Pilchner-Shoustal International
BIOGRAPHIES
Martin Pilchner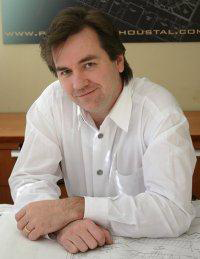 Martin is a principal partner of Pilchner Schoustal International Inc., a company which provides turnkey design and engineering of recording/broadcast facilities and critical listening environments. Since 1986 Pilchner Schoustal has been responsible for over 500 facilities world-wide. Past projects include a ground-up music facility in Kentucky, Post production facilities for Director M. Night Shyamalan in Pennsylvania, and the largest film post facility to be built in India in the last 25 years for Yash Raj films in Bombay (Mumbai). Pilchner Schoustal received a double TEC award nomination for architecture and acoustics for their design of Angel Mountain Productions in Bethlehem, Pennsylvania, which is a 20,000 square foot ground up music and film post facility. Pilchner Schoustal also developed Acoustic-X software for small room acoustic optimization. This software is still in use world-wide by many leading room designers and universities. Martin has written many technical papers on the subject of acoustics and studio design and has co-authored work presented at the AES16th International Conference on Spatial Sound Reproduction. Martin's original education was in electronics, where he worked as a engineer for Saskatchewan
Telecommunications before leaving to study recording engineering and eventually architecture. He has been a post secondary instructor for such topics as computer science, signal processing, digital audio, acoustics and studio design since 1986, and is currently the associate director of the Producing Engineering program at Harris Institute for the Arts.
Joe Dunphy, Co-Partner, Revolution Recording Studios

Joe Dunphy is a Juno Award winning producer and engineer who has been working in music, film, television and live sound for over twenty years. He lives in Toronto, and has a passion for analog audio, and specializes in building, refurbishing and customizing recording equipment. These interests have led him to share in the building of Revolution Recording, an exceptional studio with unmatched equipment. He is an owner and partner there, teaches workshops at Niagara College and has a nice wife and three grown daughters.